Using Smart Hemp CBD for Cami has helped her knee surgery recovery, and she has been sneezing less. Around this time, she usually will have eye discharge from pollen and sometimes a rash on her belly. We have been using Smart Hemp CBD for almost a month now! I just put about 10 drops in her food in the morning and this season has been better than ever.
Allergy season! Like their human owners, pets can suffer the same discomforts of allergies in many of the same ways.  Spring can be a difficult time for pets with allergies.  Blooming trees, high pollen counts, even grass can affect our pets. Smart Hemp™ CBD has sixteen product options; specifically formulated for pets, veterinarian approved, sourced from carefully screened suppliers, and trackable from seed to final product. From tinctures, to soft bites, and even topical balms, Smart Hemp™ CBD has your pet covered with the highest-quality ingredients that contain no pesticides, artificial chemicals, or other contaminants.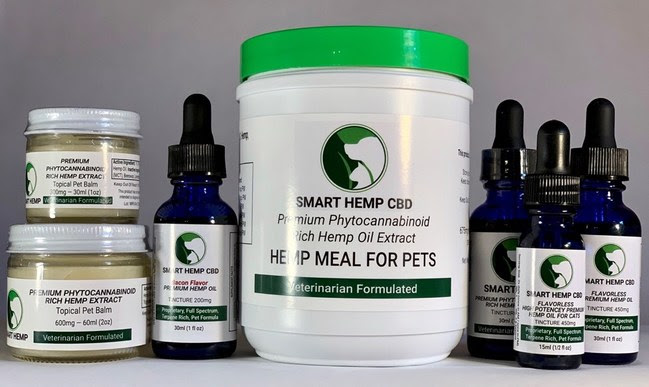 "Lucy, our six-year-old white lab, was always getting 'hotspots,'" said Lori M. from Bloomington, Indiana. "We started using Smart Hemp tincture twice daily. This really helped with her scratching. It wasn't until I started using the Smart Hemp topical pet balm that I really started seeing some great results. The hotspots stopped oozing and smelling. I would recommend Smart Hemp CBD products and will continue to use them with Lucy."
Developed under the direction of a veterinarian, these products are specifically crafted to support relief in our treasured cats and dogs. Each product is produced from high-quality hemp and is THC free, non-GMO, organically grown, and manufactured in the United States.
"Seasonal allergies can be hard on a pet and we want to provide an option for owners," said Bill Hansen, founder of Smart Hemp CBD.  "Alleviation of allergy conditions will only help the pet have a better quality of life.  Tinctures are a good option to consider as the drops begin to absorb into the system at the tongue or gum line.  So support happens quickly.  Balms are a great option for specific hot spots, itching and bug bites."
Whether seasonal or annual, Smart Hemp™ CBD products can help your pet out in their time of need.
Smart Hemp CBD products are supplements and should not be substituted for medications your veterinarian is prescribing. And always, consult your veterinarian before starting a CBD program in place of a prescribed medication. Learn more by visiting MySmartHempCBD.com.