Now that I am well into the 3rd Trimester, it is getting very real! Only about 9 weeks left until the little one gets here. I am trying to soak up as much information and watch as many Youtube videos as possible to prep myself for the big day. A few of my friends are also expecting and as you know, baby shower gifts are the best!
Most of the time, I will stick to the registry but for some of my friends, I wanted to get them something that they would actually use and remember. With so many digital apps and photos, there is definitely a bit of a 'lost art' when it comes to it written items.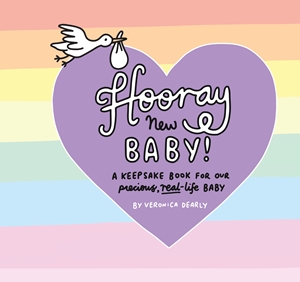 "How few hours of sleep did you get the first week after your baby came home? Was your baby's first Christmas a wrapping paper and sugar high–filled delight, or a toppled-over-tree and broken-ornament nightmare?  The first 12 months of a baby's life are precious and life-affirming—if you manage to remember them through the sleep deprivation, anxiety, and hours of advice everyone you've ever met wants to give you."
Thankfully, HOORAY NEW BABY! (Rock Point Publishers / September 11, 2018 / US $24.99) is here to help you record the true story of your baby's important first year, so memories are never fuzzy. This baby book goes from being an exercise in maintaining your sanity to a sentimental keepsake of frank, sweet observations about that special first year of your baby's life as you fill its pages.
This baby book is so cute and has colorful pages, illustrations and makes it so much fun for first time moms to fill out.  You can buy it directly from here!
$24.99 / £16.99
Format: Spiral bound, 36 Pages
ISBN: 9781631064913