I remember the day my mom got me the lime green one piece swimsuit I desperately wanted when I was 11 and how cool I thought I was. BodyGlove is one of those iconic brands I will always associate with high end swim and surf wear. Body Glove International, LLC is a surf/skateboard/watersports brand started in the United States. Body Glove was founded in 1953 by twin brothers Bill and Bob Meistrell. The brothers invented the first practical wetsuit in the early 1950s in the back of their Redondo Beach, California surf shop, Dive N' Surf. From those wetsuits Body Glove branched out into other product categories, they now make wetsuits, swimsuits, clothing, shoes, life vests, sunglasses, wakeboards, towables, backpacks, phone cases, and snorkeling equipment. (from Wiki)
Recently, Body Glove has launched a Pet line!  The Pet products are exceptional!  They are innovative, great quality and offer a range of products for your beach or city dog. A lot of Body Glove's signature neoprene is used throughout the line and it remains true to it's surf culture.
Let me introduce you to two awesome Body Glove Pet products that Jacob and I tested out.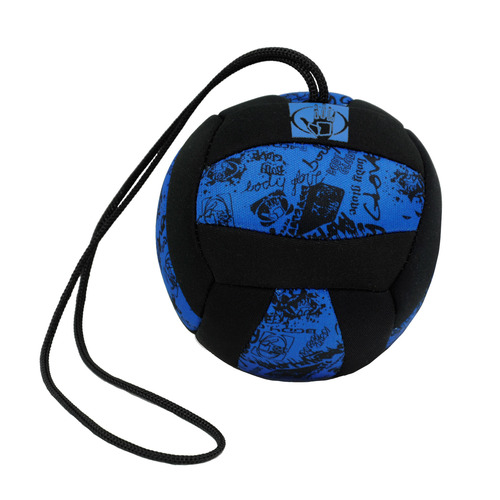 1. Neoprene Volleyball $6.50 – Jacob adores this toy! Beach volleyball anyone?  This mini neoprene volleyball is can bounce, squeak, float and spiked all over your house and park. It comes with a long nylon string so you can fling it without getting dog slobber on your hands. The neoprene is chewy and fun for the dogs to gnaw on and the squeaker is low pitched and not annoying. The volleyball, like all BodyGlove toys are made from an outer closed-cell non-toxic neoprene and non-toxic polyester filling. If you want to get just one product from the Body Glove Pet line, pick the volleyball!  It comes in Pink, Yellow and Blue.
This product gets 5/5 for us.
The dog visor comes in black, yellow, blue, pink, purple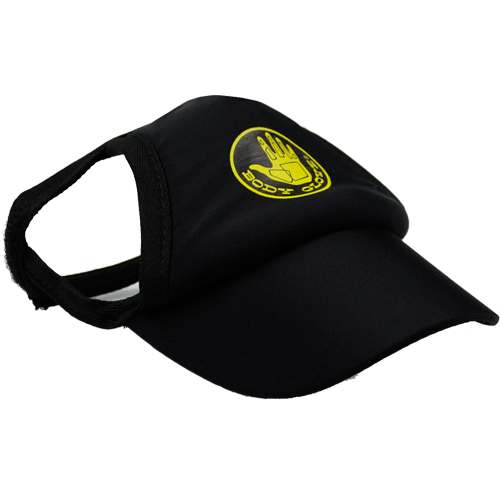 2. Dog Visor $14.99 – As you can see from the photo above, Jacob is wearing a visor!  A dog visor is really useful for really sunny days and offers protection from UV rays. Body Glove Pet brings innovative, practical and high quality pet products for the active pet. Our dog hats are sturdy enough to withstand winds, but soft and comfortable for dogs. Hats fit over their ears, wrap around their forehead with enough brim to shade their eyes. Plus a built-in sweatband for added practicality and comfort. Body Glove logo on front. The visors are made from high quality, tested fabrics to provide a great look that protects and shades their eyes from the sun. It is really easy to put on with thin velcro strap under his chin. Even though he looks cool, Jacob doesn't really like wearing hats and this M was a bit on the small side for his head so we rate this visor 4/5.
Check out more products for your dog from Body Glove on http://bodyglove-pet.com