Even though it seems like everything is 'digital' now and 'online' there is still a tremendous importance places on IRL or In Real Life.  One of my favorite things to do with my nephews is to Skype with them!
I often see him playing with his toys and poking about in bins and cabinets. Even though Scott is only 2, there are telltale signs of his engineering potential by the things that strikes his curiosity.   He is extremely dexterous and a real explorer.  He is always 'fixing' things with his dad! He also has a 4 year old cousin who can definitely help with playing this game.
The Magnetic Tile Set by Discovery Kids is a 24-piece game that allows children to build custom 3D models using magnetics square and triangular shapes.  Discovery Kids inspires kids to explore the awesome world around them and satisfy their curiosity with innovative games and activities.
Though recommended for 4 years +, I think Scott is ready for this!  It does not have small pieces like LEGO yet allows children to be creative and 'build' something. The magnets are strong and the shapes are bright and colorful with rounded corners and no small digestible parts.
I can't wait to play this game with him!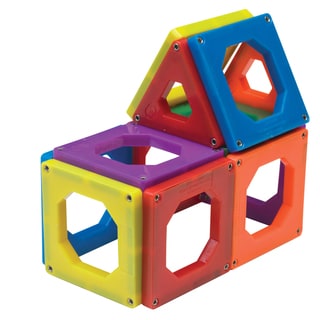 Check out more game and gift ideas on http://kids.discovery.com